Your nearest STIHL and VIKING Approved Dealer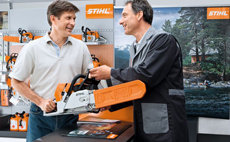 STIHL and VIKING machines have to cope with heavy stresses. That's why we attach so much importance to the personal advice and professional service only an Approved Dealer can provide.
Important Note:
To improve your search results you can enter your street and/or district. This is especially advisable for larger cities.
To search for STIHL products, simply enter your location into the box below. To search also for VIKING products, please tick the relevant box below in the Advanced Search.
No search results.